WHO'LL HELP A FAIRY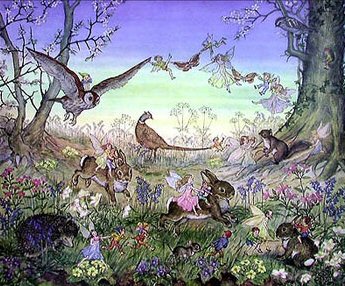 "Oh! what shall I do?" sobbed a tiny mole,
"A Fairy has stumbled into my hole;
It is full of water and crewling things,
And she can't get out, for she's hurt her wings.
"I did my best to catch hold of her hair,
But my arms are short, and she's still in there.
Oh! help her, white rabbit, your arms are very long;
You say you're good, and I know your strong."
"Dont bother me," the white rabbit said-
She shut up her eyes and her ears grew red-
"There's lots of mud and its sure to stick
On my beautiful fur, so white and thick."
"Oh dear! oh dear!" sobbed the poor little mole,
"Who'll help the Fairy out of the hole?"
A little brown rabbit popped up from the gorse,
"I'm not very strong, but I'll try, of course."
His little tail bobbed as he waddled in,
The muddy water came up to his chin;
But he caught the Fairy tight by the hand,
And helped her get to Fairyland.
But she kissed him first on his muddy nose,
She kissed his face and his little wet toes;
And when the day dawned in the early light,
The common brown rabbit was silvery white.
--Charlotte Druit Cole