FAERY VIDEO AND DVD
Movies and Cartoons featuring Faeries and mythical tales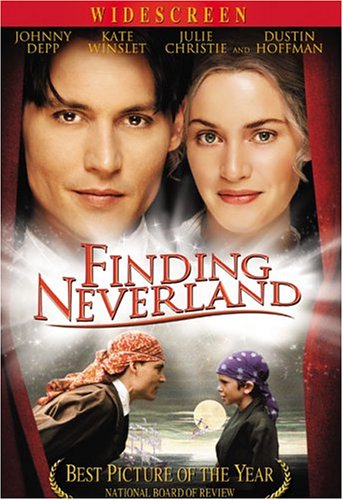 Finding Neverland (2004) Buy this Movie
Sweetness that doesn't turn saccharine is hard to find these days; Finding Neverland hits the mark. Much credit is due to the actors: Johnny Depp applies his genius for sly whimsy in his portrayal of playwright J. M. Barrie, who finds inspiration for his greatest creation from four lively boys, the sons of widow Sylvia Llewelyn Davies (Kate Winslet). Though the friendship threatens his already dwindling marriage, Barrie spends endless hours with the boys, pretending to be pirates or Indians--and gradually the elements of Peter Pan take shape in his mind. The relationship between Barrie and the Llewelyn Davies family sparks both an imagined world and a quiet rebellion against the stuffy forces of respectability, given physical form by Barrie's resentful wife (Radha Mitchell) and Sylvia's mother (Julie Christie). This gentle silliness could have turned to treacle, but Depp and Winslet--along with newcomer Freddie Highmore as one of the boys--keep their feet on the earth while their eyes gaze into their dreams. Also featuring a comically crusty turn from Dustin Hoffman (who appeared in another Peter Pan-themed movie, Hook) as a long-suffering theater producer. --Bret Fetzer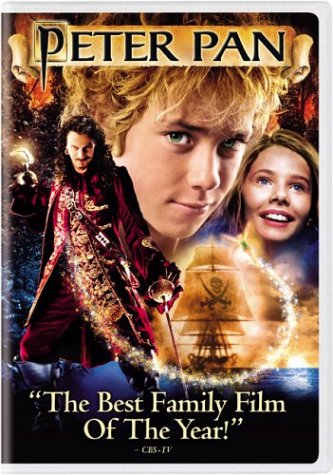 Peter Pan (2003) Buy this Movie
Fine casting, genuinely special effects, and a keen combination of whimsy and danger make this Peter Pan the one to beat among all previous adaptations of J.M. Barrie's classic children's fantasy. The technical advances of CGI make the magic of Barrie's tale come alive, and the spectacular effects combined with luminous live action create an action-packed Neverland that's both believable and breathtakingly artificial, like a Maxfield Parrish landscape springing vividly to life before your eyes. More important, however, is the fact that director P.J. Hogan has taken care to develop a substantial, pre-adolescent affection between the boyish sprite Peter (Jeremy Sumpter) and resourceful London girl Wendy, played by Rachel Hurd-Wood in a marvelous screen debut. This emotional bond--and the mixed blessing of Peter's eternal childhood--is what gives Hogan's Peter Pan its rich emotional subtext, added to an already bountiful adventure that's equal parts delightful and menacing, especially when the villainous pirate Captain Hook (Jason Isaacs, doubling as Wendy's father) threatens to spoil the fun. With a mischievously dazzling Tinker Bell (Ludivine Sagnier) and no expense spared on its lavish Australian production, this Peter Pan gets it entirely right by presenting childhood as fun and frightening, in all its wondrous joys and sorrows. --Jeff Shannon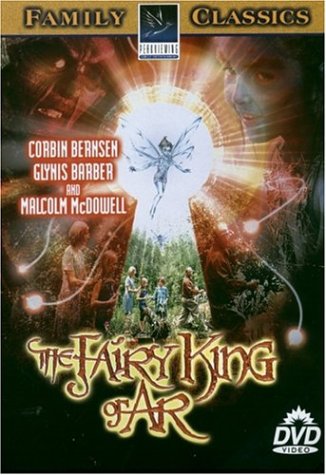 The Fairy King of Ar (2001) Buy this Movie
This is a tale about a family that moves to the Isle of Man. After meeting a grumpy old caretaker, they move in to their 'country-ish' cottage in the lush woods. The two children befriend a fairy, while their father finds information at the local library that informs him that there is a gold mine under the creek that runs through their property. The crochety old caretaker warns them that if they open up the closed mine "demons will be comin' to get yer." While they decide to open the mine anyway, their ailing father finds he has 3 months to live. The fairies, sensing his illness, heal him, and then there comes a dilemma: Are the beings in the mine goblins, (rogue fairies), or really a lost breed of the wee folk?
This heartwarming tale really is a great movie. The makeup for the fairies is kind of 'theatrical' and the hairstyles resemble the 'beehive, but still, who wouldn't enjoy a fairy flick?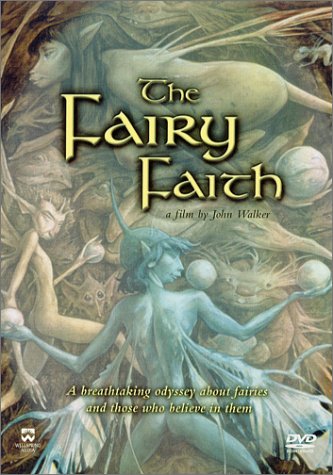 The Fairy Faith (2001) Buy this Movie
(from the back cover)
A fairy is a tiny being with wings that looks like a person but possesses powers of magic and enchantment. According to legend, fairies can change the weather, alter aspects of nature and bestow magical gifts such as intelligence and plenty. They can also lure humans to their islands where all is happiness and no one ages or gets sick...however, once brought to these mystical places, there is no escape. Join filmmaker John Walker on a quirky and compelling journey through Ireland, England, Scotland and Cape Breton in search of the child's imagination in a rational world. This unique look into the realm of fantasy traces the popular fascination with fairies and is vividly brought to life with gorgeous cinematography and an enchanting soundtrack

Fairy Tale: A True Story (1997) Buy this Movie
In the English countryside during World War I, two girls -- 12-year-old Elsie (Florence Hoath) and her cousin 8-year-old Frances (Elizabeth Earl) -- take photographs of what they insist are fairies. The photos come to the attention of Sir Arthur Conan Doyle (Peter O'Toole), a believer, who shows them to his friend Harry Houdini (Harvey Keitel), a skeptic, and the two end up making celebrities out of the girls and the pictures.

Faeries (1999) Buy this Movie
Animated. Two human siblings become unwitting pawns in an evil fairy's bid to overthrow his twin brother's throne.

Hook (1991) Buy this Movie
Peter Pan (Robin Williams) has grown up to be a cut-throat merger and acquisitions lawyer, and is married to Wendy's (Maggie Smith) granddaughter (Caroline Goodall). Captain Hook (Dustin Hoffman) kidnaps his children, and Peter returns to Never Land with Tinkerbell (Julia Roberts). With the help of her and the Lost Boys, he must remember how to be Peter Pan again in order to save his children by battling with Captain Hook once again.

Kristen's Fairy House (1997) Buy this Movie
Kristen' Fairy House is a completely different kind of video for children and families. With a light hand and heart, it inspires children to explore the natural world around them. It is the story of Kristen and her vacation on a small island off the New England coast with her aunt Tracy, an artist. Tracy is creating a picture book about "fairy houses" built in the woods by visiting children. As they share an island adventure, a special relationship develops and Kristen becomes the heroine of her own story.

Legends of Ireland: Fairies and Leprechauns (1998) Buy this Movie
Meet magical creatures from Irish folklore in this installment of the Learning Channel series.

Legend of the Isles: Merlin the Wizard/Fairies and Leprechauns Buy this Movie
A history of pre-Christian times in Scotland to the dawn of America featuring Merlin the Wizard and the Crafty Leprechaun.

The Magical Legend of the Leprechauns (1999) Buy this Movie
A businessman (Randy Quaid) rents a cottage on the magical Emerald Isle which happens to inhabit leprechauns and fairies. One night at a party, a young leprechaun falls in love with a fairy princess. Their forbidden romance starts a war between the mythical communities. The businessman is chosen by the Grand Banshee (Whoopi Goldberg) to help bring peace to the island which propels him into a wondrously fantastic adventure. A story for anyone who truly believes in magic!

A Midsummer Night's Dream (1999) Buy this Movie
Movie adaptation of Shakespeare's play in which the fairies of the forest play mix and match with four young lovers, courtesy of a magical love potion. Starring Michelle Pfeiffer, Rupert Everett, Calista Flockhart, Christian Bale, Stanley Tucci, Kevin Kline, Anna Friel, and Dominic West.

The Mysts of Avalon (2001) Buy this Movie
The King is dead, long live the King, but who will it be? The answer is found on the battlefields and in the mystical and powerful manipulations of fate emanating from the women of the legendary isle of Avalon in this intrigue-filled retelling of the King Arthur/Camelot legend. Starring Julianna Margulies, Anjelica Huston, Joan Allen, Caroline Goodall, Edward Atterton, and Samantha Mathis.

Peter Pan (Disney) (1953) Buy this Movie
Delightful Walt Disney cartoon feature of the classic James M. Barrie story, with Peter leading Wendy, Michael, and John Darling to Neverland, where they do battle with Captain Hook and his band of pirates. Musical highlight: "You Can Fly, " as the children sail over the city of London.

Peter Pan (1955) Buy this Movie
1960 NBC-TV version of the Mary Martin Broadway musical about Peter Pan. This ageless classic is about a boy, who never wanted to grow up, and his adventures in Never Neverland with Wendy, John, and Michael.

Photographing Fairies (1998) Buy this Movie
After the sudden death of his young wife, Charles Castle devotes himself to his work as a photographer in World War I. After the war he works in trick photography and exposes frauds, but when a pair of little girls come forth with photos seemingly showing them dancing with fairies. The rational young man travels to the country to investigate the photos and gradually finds himself awakening to the possibilities he has long denied.

The Secret of Roan Inish (1995) Buy this Movie
Sent to live with her grandparents in a quaint coastal Irish town, 10-year-old Fiona (Jeni Courtney) is fascinated by the village's rich folk culture--especially the local myths about a half-human, half-seal creature known as a selkie. Fiona becomes convinced that her supposedly deceased little brother is living with the selkies, and she travels to the beautiful, enchanted island of Roan Inish, where her grandparents once lived, to confirm her suspicions.

The 10th Kingdom (2000) Buy this Movie
Kimberly Williams has never been more enchanting than as Virginia, a waitress who still lives with her janitor father (John Larroquette) and yearns for something exciting to happen to her. Her wish comes true when she and her father are transported from New York City into a dimension that, with apologies to Rod Serling, can only be called the Fairy Tale Zone; nine kingdoms populated by characters from fairy tales of yore. They team up with a dog who's really a prince--Wendell, grandson of Snow White--changed into canine form by the evil Queen (Dianne Wiest), who plots to usurp Wendell's throne. Father, daughter, and his royal dogness are relentlessly pursued through the nine kingdoms by the Troll King (Ed O'Neill) and his three bumbling and horrible children, and the conflicted Wolf (Scott Cohen), who is allied with the Queen but, with the aid of some Oprah-esque self-help books, tames his inner beast and falls in love with Virginia. The 10th Kingdom is a special effects extravaganza. There is indeed, as one character marvels, magic to behold here. But despite the Hallmark brand name and the presence of a grown-up Snow White (Camryn Manheim) and Cinderella (Ann-Margret), bewitched animals, magic mirrors, and trolls, this is not kid's stuff. It can get scary, surprisingly violent, and quite intense; you know, just like real fairy tales. --Donald Liebenson

Willow (1988) Buy this Movie
In the dungeons of the castle of the evil Queen-sorceress Bavmorda, a prisoner gives birth to a child who, according to an ancient prophecy, will put an end to the reign of the Queen. A midwife saves the child from the wrath of Bavmorda, but is forced to throw her cradle in a river when reached by the Hounds of the Queen. The river brings the child near a village of dwarves, and little Willow finds and adopts her. When the Hounds reach the village, Willow begins a difficult journey to bring the baby back to her people and to fulfill the prophecy.

Dark Crystal (1982) Buy this Movie
Recalling the worlds of J.R.R. Tolkien, Henson tells the story of a race of grotesque birdlike lizards called the Skeksis, gnomish dragons who rule their fantastic planet with an iron claw. A prophecy tells of a Gelfling (a small elfin being) who will topple their empire, so in their reign of terror they have exterminated the race, or so they think. The orphan Jen, raised in solitude by a race of peace-loving wizards called the Mystics, embarks on a quest to find the missing shard of the Dark Crystal (which gives the Skeksis their power) and restore the balance of the universe.

Dragonheart (1996) Buy this Movie
Film about the last of the great dragon slayers, Bowen (Dennis Quaid), who teams up with the last of the great dragons, Draco (and voiced by Sean Connery), after they realize that killing each other would put them both out of business! So they devise a bogus dragon-slaying act that's a huge hit as they tour from village to village. Later, they must rouse the peasantry against the loutish Prince Einon (David Thewlis), whose life was once saved by Draco, but who now violates the "Old Code" of honor with a ruthless reign of terror.

Dragonheart: The New Beginning (2000) Buy this Movie
Geoffrey (Chris Masterson) is a stable boy at a monastery, with dreams of knighthood--dreams that seem out of reach until he discovers a young dragon living in the monastery's dungeon, a scaly but kindly faced fellow named Drake (voiced by Robby Benson). Unfortunately, the king of the realm has fallen under the spell of an evil adviser, who has plans for this dragon. Fortunately, an old Chinese man and his ward--a very attractive girl with a stunning kung-fu kick--have arrived to keep the dragon from harm.

Dragonslayer (1981) Buy this Movie
Back in the days when everyone believed in magic, a horrifying fire-breathing dragon terrorized the sixth-century British countryside. The only hope for the beleaguered citizens is an aging sorcerer (Sir Ralph Richardson). But when he is killed before he can save the people, the task falls on his young apprentice, Galen (Peter MacNicol).
Galen's mission is complicated by resistance from the king - and by falling in love - but his biggest challenge comes when he is suddenly face to face with the dreaded monster. Is his magic enough to save him?

Ever After (1998) Buy this Movie
Once upon a time&ldots; "a dazzling rendering of the Cinderella story" (The Washington Post) brought new life to an age-old legend and made us believe in the strongest magic of all: the power of the human heart. Drew Barrymore and Anjelica Huston star in this enchanting adventure about having the courage to make your dreams come true.
A "modern" young woman of the 16th century, Danielle (Barrymore) is as independent and wise as she is beautiful and kind. Against remarkable odds, she stands up to her scheming stepmother (Huston) and works miracles on the lives of everyone around her, including the crown prince of France (Dougray Scott)!
Now you can relive this captivating contemporary retelling of the classic fairy tale. No matter what you're looking for, "action, romance, adventure&ldots; Ever After delivers it all!" (ABC-TV)

Excalibur (1981) Buy this Movie
This lush retelling of the legend of King Arthur and the Knights of the Round Table is a dark and engrossing tale. Director John Boorman masterfully handles the tale of the mythical sword Excalibur, and its passing from the wizard Merlin to the future king of England. Arthur pulls the famed sword from a stone and is destined to be crowned king. As the king embarks on a passionate love affair with Guenevere, an illegitimate son, and Merlin's designs on power, threaten Arthur's reign. The film is visually stunning and unflinching in its scenes of combat and black magic. Featuring an impressive supporting cast, including early work from the likes of Liam Neeson and Gabriel Byrne, Excalibur is an adaptation of the legend both faithful and bold.

First Knight (1995) Buy this Movie
Retelling of the Arthurian legend, in which Lady Guinevere (Julia Ormond) is torn between her love for the noble King Arthur (Sean Connery) and the passionate knight Sir Lancelot (Richard Gere). As the story opens, Guinevere's lands are under attack by the evil knight Malagant (Ben Cross), and she must choose between marriage to Arthur and the security of Camelot, or encouraging the affections of Lancelot, who has heroically rescued her from a potentially lethal attack.

Labyrinth (1986) Buy this Movie
Sarah (Jennifer Connelly) rehearses the role of a fairy-tale queen, performing for her stuffed animals. She is about to discover that the time has come to leave her childhood behind. In real life she has to baby-sit her brother and contend with parents who don't understand her at all. Her petulance leads her to call the goblins to take the baby away, but when they actually do, she realizes her responsibility to rescue him. Sarah negotiates the Labyrinth to reach the City of the Goblins and the castle of their king. The king is the only other human in the film and is played by David Bowie, who performs five of his songs. The rest of the cast are puppets, a wonderful array of Jim Henson's imaginative masterpieces.

Ladyhawke (1985) Buy this Movie
Matthew Broderick plays a young thief who comes to the aid of tragic lovers Isabeau (Michelle Pfeiffer), who is cursed to become a hawk every day at sunrise and Navarre (Rutger Hauer) who turns into a wolf at sunset. The curse was cast by an evil sorcerer-bishop (John Wood), and as Broderick eludes the bishop's henchmen, Navarre struggles to conquer the villain, lift the curse, and be reunited with his love in human form. Nominated for two Academy Awards, including Best Sound and Best Sound Effects Editing.

Legend (1986) Buy this Movie
Tom Cruise stars in this visually-stunning 1985 fantasy adventure in which pure good and evil battle to the death amidst spectacular surroundings. Set in a timeless mythical forest inhabited by fairies, goblins, unicorns and mortals, this fantastic story has Tom Cruise, a mystical forest dweller, chosen by fate to undertake a heroic quest. He must save a beautiful princess, Mia Sara, and defeat the demonic Lord of Darkness, Tim Curry, or the world will be plunged into a never-ending ice age. Co-starring Billy Barty and Alice Playten and directed by Ridley Scott, famed for his remarkable settings and unparalleled imagery, the incredibly realized fable is the stuff movie legends are made of.

Merlin (1998) Buy this Movie
This four-hour miniseries re-tells the story of Camelot and King Arthur from the perspective of the magic man, Merlin, who sacrifices a great deal to guide mortals toward a better destiny. Sam Neill plays Merlin as an accessible, flesh-and-blood fellow of real passion, powerless to undo the spell of a rival (Rutger Hauer) who has virtually imprisoned Merlin's great love, Nimue (Isabella Rossellini), but gifted enough to counter the treachery of Morgan Le Fey (Helena Bonham Carter) and the wicked Queen Mab (Miranda Richardson).

The Neverending Story (1984) Buy this Movie
Twelve-year-old Bastian Balthazar Bux (Mark Rendall) had lost the wonderful imagination he had as a child somewhere between growing older, watching TV, going to school and playing with his Gameboy. But when his mother dies suddenly, Bastian's limitless imagination is reborn. Bastian comes across a magical book, "The Neverending Story", in a curious little bookstore. Inspired by the book, Bastian creates an enchanted world called Fantasia, inhabited by dragons, dark knights and assorted heroes and villains. The adventure of a lifetime begins when Bastian projects his Fantasian alter ego, Atreyu (Tyler Hynes), into a battle against the sinister force of The Nothing. This terrible force threatens to destroy Fantasia and its ruler, the Childlike Empress (Audrey Gardiner). Only Atreyu, a 14-year-old Woodland boy and unlikely hero, can save her and find a cure for The Nothing. Bastian's experiences in the real world; such as his mourning, his new, sometimes tumultuous life with his dad, his problems with a school bully and his terror of a new, sadistic substitute teacher, are mirrored by Atreyu's experiences in Fantasia. Along with Atreyu, Bastian overcomes obstacles, learns important life lessons, and gains insights that help him adjust to the sudden death of his mom.

The Neverending Story II (1991) Buy this Movie
Once again, Bastion (Jonathan Brandis) is transported to the world of Fantasia which he recently managed to save from destruction. However, the land is now being destroyed by an evil sorceress, Xayide (Clarissa Burt), so he must join up with Atreyu (Kenny Morrison) and face the Emptiness once more.

The Princess Bride (1987) Buy this Movie
A lowly stable boy, Westley (Cary Elwes), pledges his love to the beautiful Buttercup (Robin Wright), only to be abducted and reportedly killed by pirates while Buttercup is betrothed to the evil Prince Humperdinck. Even as Buttercup herself is kidnapped by a giant, a scheming criminal mastermind, and a master Spanish swordsman, a mysterious masked pirate (could it be Westley?) follows in pursuit.


Would you like to search for other items?
Search Amazon.com for books, music, movies, toys and games, electronics